The Short Story
Alucardi (pictured below) is your hostess. If you get lost, or need assistance in The Red Room, click on her to access the sitemap....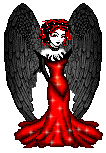 ...but, if you want to enjoy the site for the way it was created, close this window and go through the door marked "Enter at Your Own Risk."
The Red Room opens in a new window.
Don't forget to
Always use the
Button
The Long Story
This website is not user-friendly (most "haunted house" websites aren't). What makes it even a bit more difficult, is that this is a horizontal website (on the main pages). This is a "chronic clickers" website, and if you are a connoisseur of haunted house websites, or an adventure gamer, you'll feel right at home. If you just want to get to the point, and/or don't want to read the storyline, and follow the linear path, you may want to go to the sitemap to jump around.
We had the site "tested" by several, and a few didn't make it past the "hidden well" ergo, missing the other half of the site. So, if you want more of an explanation on how this site works, Ask Wilhelm. You can always access the site map by holding Alucardi's hand. She'll lead you where you want to go.
Don't forget to
Always use the
Button