The " ApocaLEXX" in Thailand episode aired on March 29, 2002 (in the U.S.)
Ellen left Oct.19th. from LA to Bangkok, Thailand to film the episode #4.20, "Apocalexx Now".

This was the last episode of the season to be filmed. It is a spoof of the famous film classic "Apocalypse Now". As previously announced Ellen plays the part of the POPE. She will be the first female Pope in Sci-Fi History.

Having filmed two episodes in Berlin, Germany, two episodes in Halifax, NS., one in Los Angeles, USA.; Ellen is looking forward to her next adventure. Since the 'Pope' golfs in this particular episode, she has been forced to take golf lessons.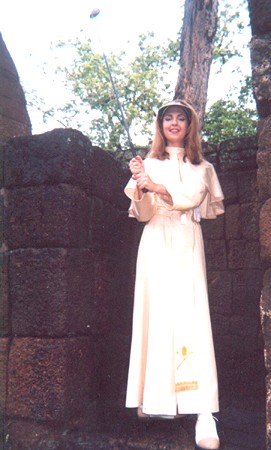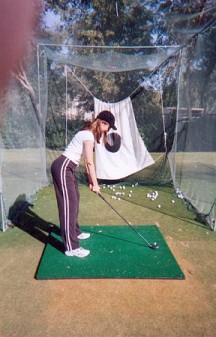 Left: Ellen as Lexx's "Pope." (notice golf club).
Right: Ellen practicing golf, to "play" a realistic (and sadistic) game of golf on Stanley Tweedle's head. Ouch!
The Pope and Monks with Guns in THAILAND shooting the episode APOCALEXX NOW
Ellen Dubin as the Pope, joined by her sexy band of monks.
Photographs of Ellen Dubin Copyright: Wanstrom & Assoc.